20 May 2014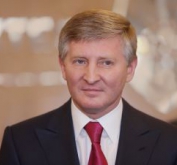 Dear fellow countrymen, Today the citizens of Mariupol wanted to organize a peace march. As I was told, more than 50,000 people were going to be a part of it. And that is in Mariupol alone, while across all of Donbass there are millions ready to join in.
Why? Because people are tired of living in fear and terror. They are tired to going out to streets and coming under gunfire. There are people walking around with guns and grenade launchers. Cities are witnessing banditry and looting. Is this a peaceful life? Is this a strong economy? Is this good jobs and salaries? No! And that is why people wanted to go out for a peace march.
But I was told in the morning that there were gunmen in Mariupol, that they wanted to shoot down peaceful people and a peaceful action! I immediately contacted directors of our plants and called on them to suspend participation in the peace march. Because a human life is the biggest value and I will never allow bloodshed. I urged to suspend the action; suspend, not stop it! Because if we stop, Donbass will remain in blood.
I want to tell everyone – we will not stop! We shall not be frightened. No one will frighten us including those calling themselves a Donetsk people's republic.
Just tell me please, does anyone in Donbass know at least one representative of this DPR? What have they done for our region, what jobs have they created? Does walking around Donbass towns with guns in hands defend the rights of Donetsk residents in front of the central government? Is looting in cities and taking peaceful citizens hostages a fight for the happiness of our region? No, it is not! It is a fight against the citizens of our region. It is a fight against Donbass. It is genocide of Donbass!
I will not let Donbass be destroyed. I was borne and am living here. That is why I am calling on everyone to unite in our fight: for Donbass without weapons! for Donbass without masks! for Donbass with a peaceful sky above!
Today representatives of the so-called DPR seized the railway. They didn't just stop the railway, they stopped the heart of Donbass because the industry of Donbass will die without the railway. It means that Donbass, our region of hard-working people, will die! That is why I am calling upon all employees across Donbass to go out tomorrow for a peaceful warning protest at the companies where they work. The rally will start tomorrow at noon with a siren ringing at all industrial businesses of Donbass in support of peace and against bloodshed. And that sound will ring every day at noon across all of Donbass until peace is established. I also call on all motor-car owners and all patriots of our region to join the action!