17 September 2013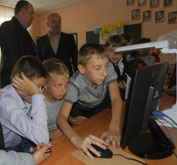 Metinvest's Komsomolske Flux Plant gave UAH 346,000 this year to Komsomolsk's three grade schools for repairs and to purchase supplies and equipment.
With the funding from Komsomolsk Flux Plant, School #1 purchased an interactive whiteboard, projector, and a laptop; School #2 purchased an interactive whiteboard and a multifunctional (scanner, printer, and copy machine) device; and School #5 purchased 10 computers.
The ceremonial opening of School #5's computer classroom took place on September 10. This classroom will be used by students in grades 2, 5, and 9-11. School #5 also purchased microphones and a laptop for extracurricular activities.
"Komsomolske Flux Plant of Metinvest Group, as a socially responsible enterprise, helps the city's educational institutions better prepare for the school year and contributes to improving the educational process in the city," said Yuriy Polyakov, Komsomolske Flux Plant general director.
For editors:

Private JSC Komsomolske Flux Plant is part of Metinvest's Mining Division and is one of the largest suppliers of flux limestone used for metallurgical, chemical, sugar, and construction industries. The plant was founded in 1934 and is located in Donetsk oblast. The total volume of flux limestone in the Karakub deposit available for future development is approximately 400 million tons. Komsomolske Flux produces various grades of flux limestone: Ch-1 and Ch-2 for blast furnaces; S-1 and S-2 for electric steel making; and Т-1, А, and B grades for process lime production. The plant manufactured 5.3 million tons of merchant limestone in 2012.